"Fragrance is a kind of language that needs no words."
Kajal Perfumes Paris is a perfume house that was created out of love for luxurious fragrances.
The brand is inspired by the world of the Orient. The name "kajal" comes from the Arabic word "khajal" which means modesty, humility and kindness.
The compositions are made of the highest quality ingredients in a very high concentration. They are distinguished by an amazing projection and durability. The bottles are created in cooperation with companies that design packaging for global premium brands.

Masa, the Arabic name for a singular diamond. If we had an eternity to sift through a sea of diamonds, we would never find two the same, they are renowned for their uniqueness as much as they are for their astonishing beauty.
Diamonds represent resilience, eternal love, purity, and new beginnings. These enchanting attributes highlight the ambiguous elements of this gem's invincibility and the inherent delicacy of the one who wears it.
The Moon is a symbol of illumination, each Lunar phase is represented in the design of Masa in Silver, which is associated with strength, abundance, and enlightenment.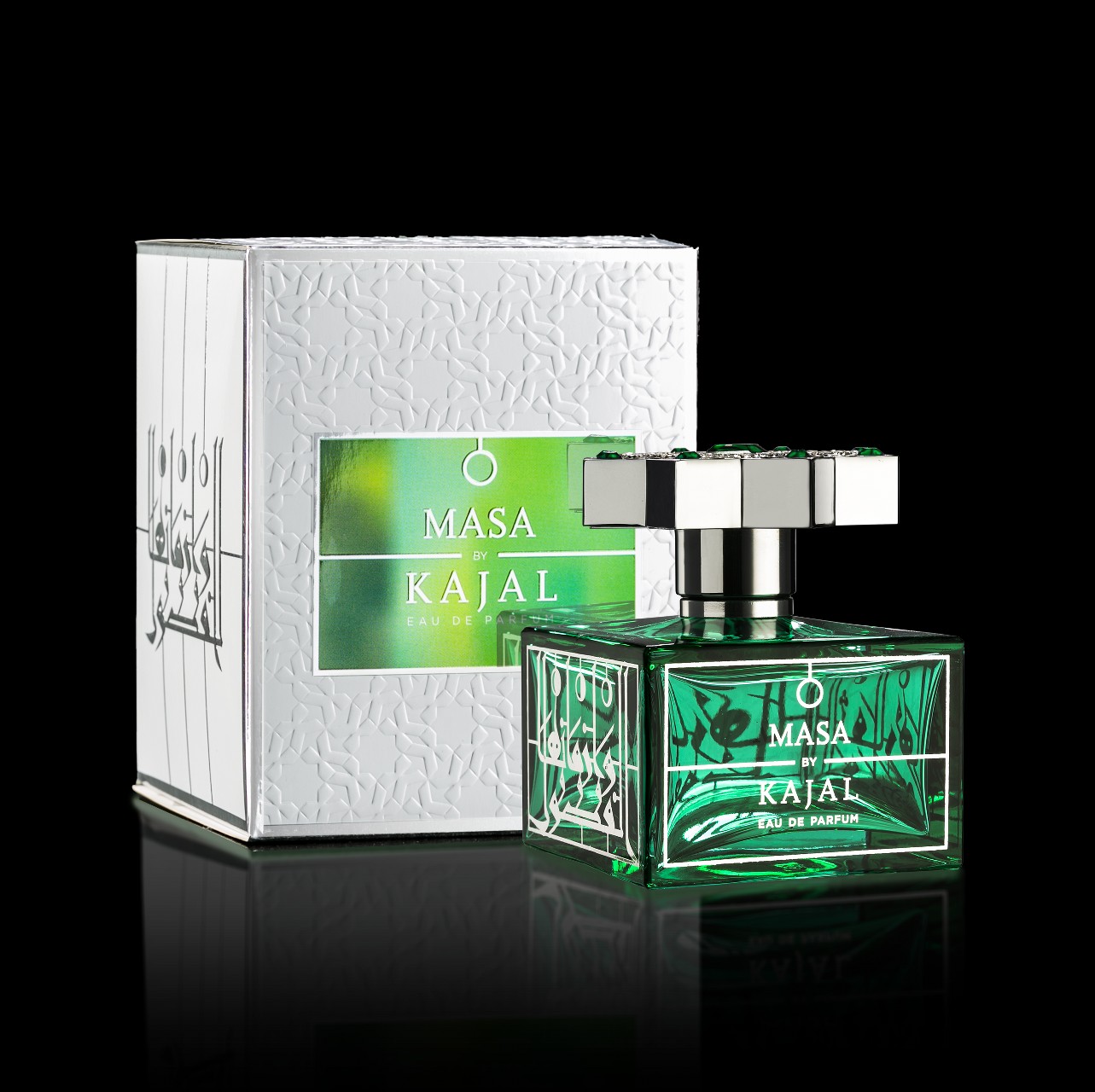 Almaz is the long-awaited fragrance by Kajal, created in 2022 by the outstanding perfumer Rania Jounaeh. Both the composition itself and the visual side have been refined in every detail. This is the first such a luxurious bottle, the cork of which is decorated with beautifully shimmering Swarovski crystals. Additionally, inside the box there is a Lamar perfume with a capacity of 3 ml and a mini catalog with photos and descriptions of the entire Kajal collection.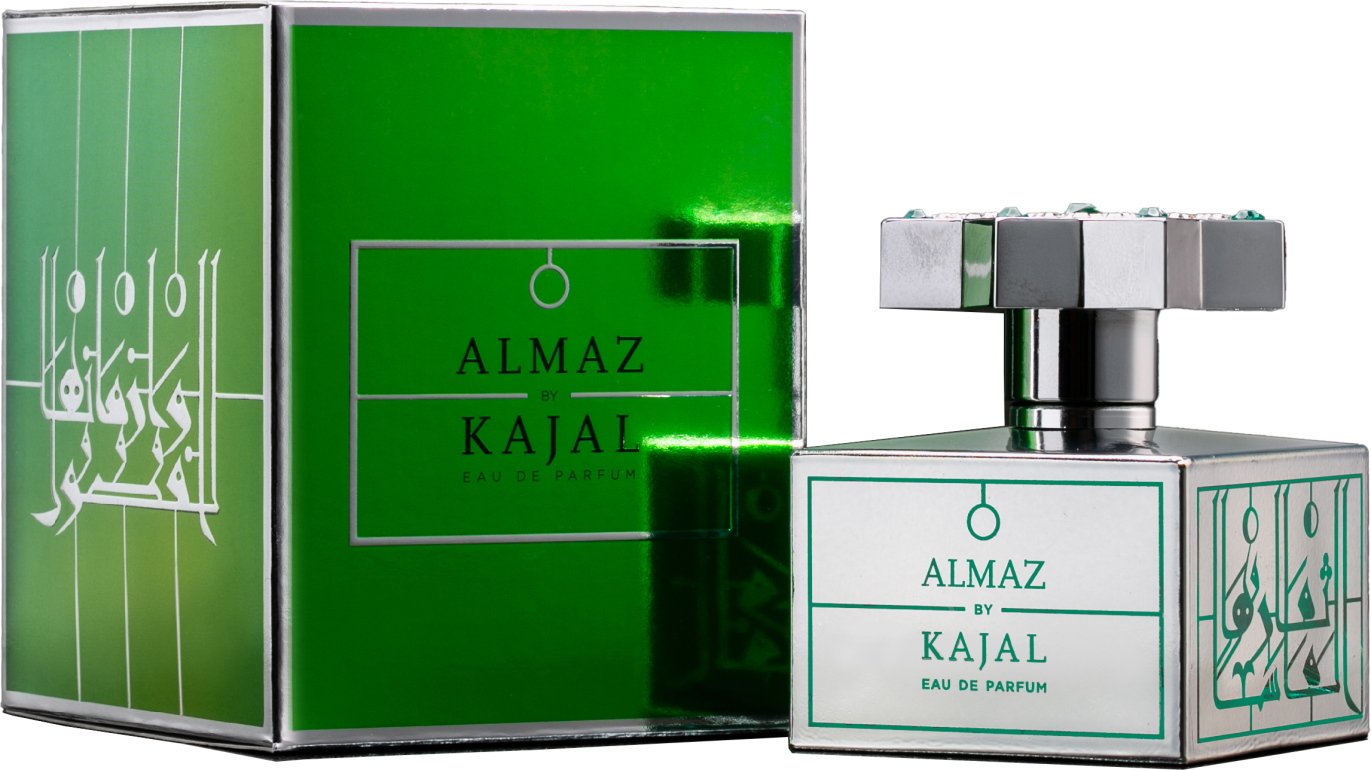 Almaz, the Arabic name for diamonds, are known not only for their sublime beauty, but also for their timelessness as they withstand millions of years of immense pressure to form. Created by perfumer Rania Jouaneh, renowned for her exquisitely powerful and sensual perfume creations, Almaz opens with a beguiling fruity combination of bergamot and blackcurrant, a delightful mixture of fresh sweetness with a spicy edge. The heart notes consist of an elegant blend of raspberry, flower notes and heliotropev. In the base, we find a delicious fusion of musk, wood notes, vanilla, amber and brown sugar, a mellow yet sensual composition consisting of a rich and pure earthy softness.
LAMAR… beauty in a name, beauty in a bottle, beauty in a fragrance. A name with French origin Lumière meaning light, LAMAR is also known as liquid gold: mesmerizing, fascinating and enticing. A fragrance designed to resemble the beauty of the golden sun setting on the horizon. Distant clouds reflect rich rays of color – shades of red, streaks of yellow and shimmering gold. The fragrance of LAMAR evokes fragrant notes of rose and jasmine that float in the Mediterranean breeze. A wonderful fragrance.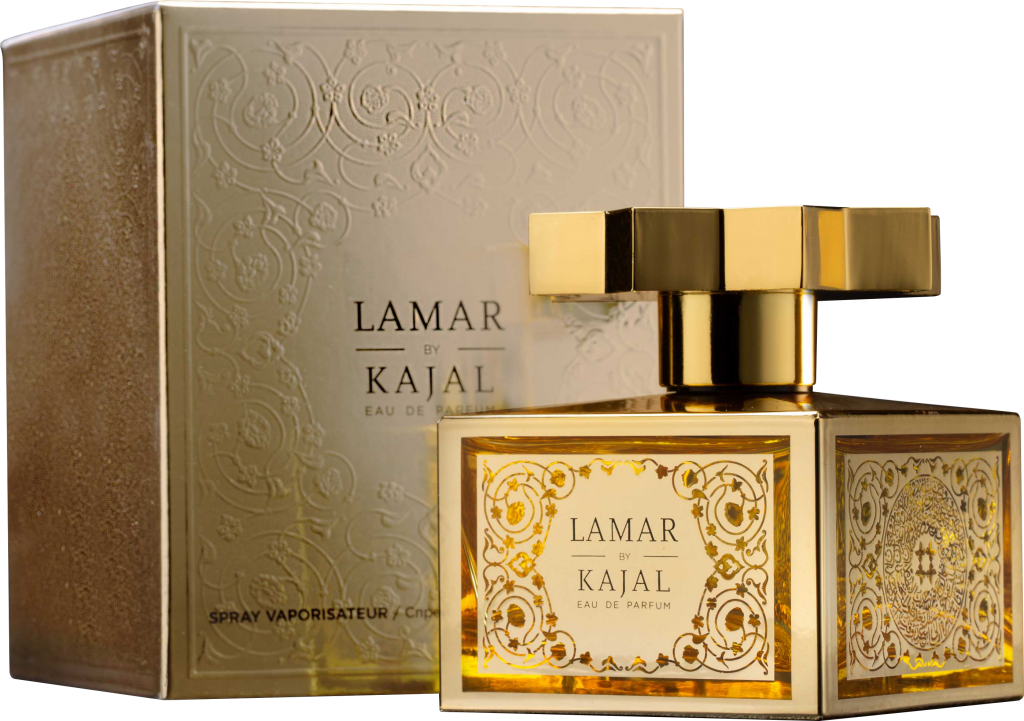 In the process of creating LAMAR, Mark Buxton, a famous perfumer, said: "My inspiration was to create a rich, natural, warm and long-lasting fragrance using high-quality natural products. It gives the feeling of walking on a plant of roses or a jasmine field – very feminine and sensual ".
The slightly fruity top note consists of red berries, apple, a hint of pineapple and some spicy elements such as cardamom and coriander oil, which give the fragrance a distinct signature. Then a rich bouquet opens: Bulgarian rose oil and Turkish rose absolute, mixed with sambac jasmine absolute and magnolia flowers.
A strong, vibrating wood base is a blend of amber, cashmere and cedar, complemented by musk, vanilla and moss. To sum up, a unique diffusion creation.
Behind the best-selling Lamar composition is the recognized and extremely prolific niche creator Mark Buxton. He created a fruity-floral-oriental fragrance for Kajal Perfumes, which works as the best mood enhancer. Well-being is improved just by looking at this rich, golden bottle that beautifully filters the sun rays. Lamar means "liquid gold" and you can actually get the impression that while wearing this fragrance you surround yourself with an aura of optimistic, luxurious and addictive gold. The opening is a fruity explosion dominated by juicy notes of pineapple and papaya. They are balanced with the spicy sounds of cardamom and coriander. The heart of the fragrance is dominated by flowers, with rose and magnolia at the fore. Saffron adds some elegance to the whole composition and prevents the fragrance from falling into too hard candy notes. At the Lamar base, fruit bites and flower petals are flooded with a wave of sweetness that seem to candize them. Ambroxan, cedar and vanilla are surely responsible for this effect, and above all, the delicious note of toffee…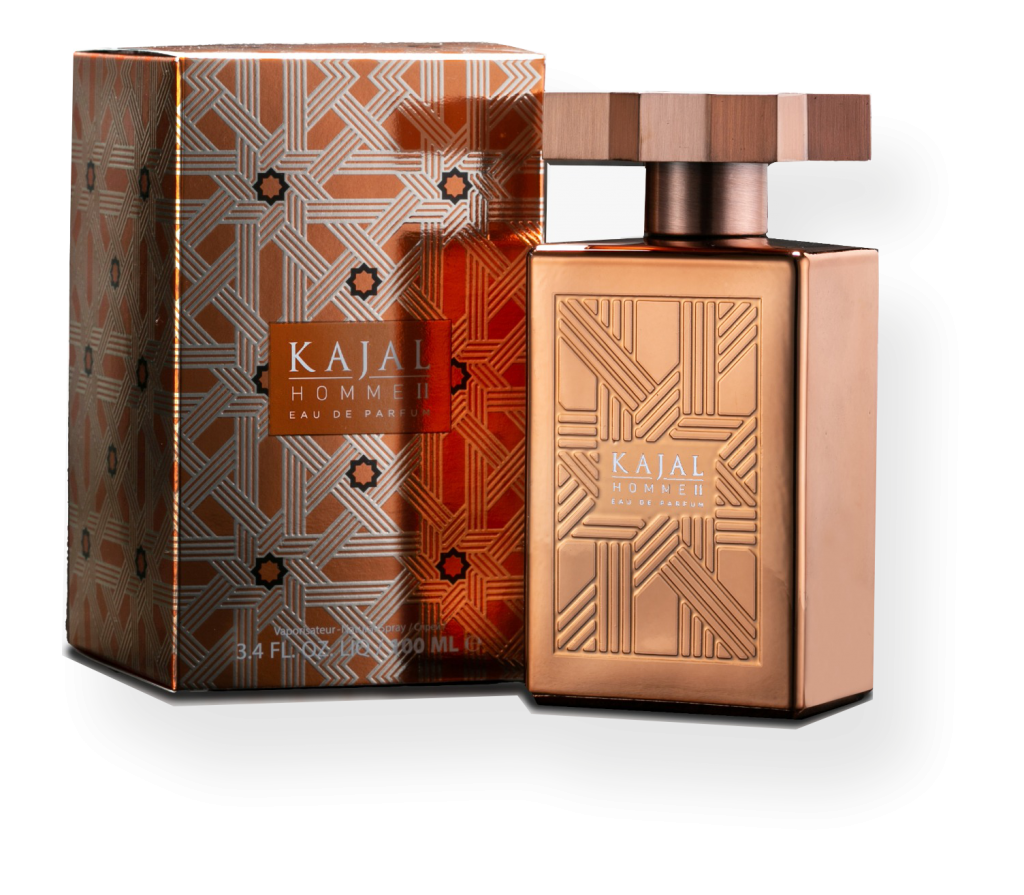 Homme II is the newest fragrance by Kajal, created in 2021 by perfumers Rosendo Matue and Christian Carbonell.
Just like its predecessor Kajal Homme, it is definitely a masculine fragrance, full of class and elegance. Homme II is an extremely charismatic composition that will complement the grace, style and uniqueness of a man. It is a year-round fragrance that suits both an elegant suit and a sport outfit. Since it appeared in the collection, it immediately became one of the bestsellers. The Mateu and Carbonell duo worked as well on the brand's first men's fragrance. Also this time they created an unusual, charming composition.
The top notes contain misterally combined fresh nuances: accords of green notes and a herbal blend of lavender, clary sage and rosemary.
In the middle, subtle notes of cloves and cinnamon add spice. It is balanced with an unique peach aroma that, when mixed with spices, transforms the fragrance into a true masterpiece with a refined, fruity undertone. The main ingredient of KAJAL HOMME II is Virginia cedar wood which gives the whole fragrance the elegance it exudes so deeply.
Musk, woody notes and moss along with saffron, warm sweet notes and rich patchouli complete the fragrance in the base for a perfect long-lasting effect.
Homme II is the fragrance, created by the proven Mateu-Carbonell duo in 2021. It differs from the classic Homme with a more generous dose of green notes, while maintaining all its aromatic beauty. The composition is built by a galaxy of notes loved by men. It opens green and citrus and the combination of these energetic notes immediately stimulates action. Its heart is full of aromatic herbs – rosemary, sage and lavender, spices – cinnamon and cloves, and cedar wood interestingly juxtaposed with a juicy peach accord. After many hours on the skin, the composition reverberates with a charismatic mixture of wood notes, sweet accords, musk and insanely noble oak moss. It is a fragrance for a true connoisseur of beauty in every way. Deep, dry and classic, unmistakably masculine, Kajal Homme II is a perfect harmony of masculinity and nature.
A fragrance is nothing more than a touch that we give from a distance.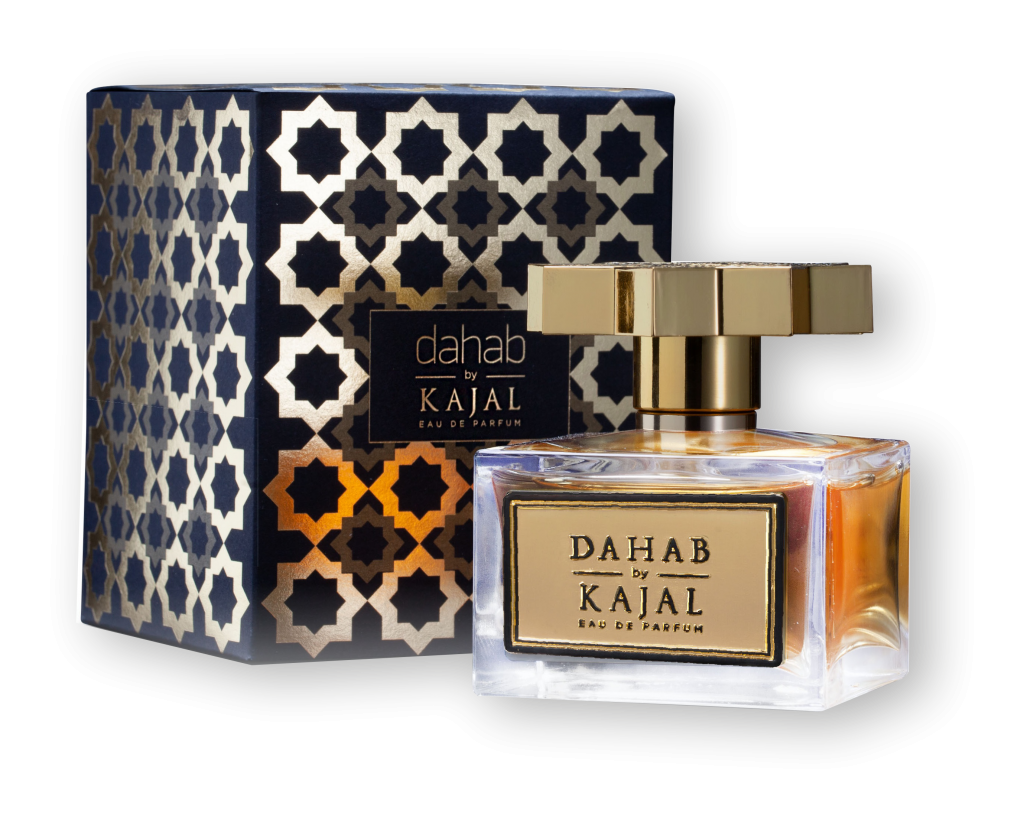 Magical, hypnotizing and charming Dahab by Kajaj is a masterpiece created by renowned perfumers: Christian Carbonnel and Rosendo Mateu. With "Dahab" meaning "Gold", the fragrance exudes wealth and luxury to the wearer.
The magical elements of the excellent bergamot and the Granny Smith apple conquer both heart and nose in everyday use.
The mysterious notes of juicy fruit, especially passion fruit combined with cedar and coriander seeds create the heart of this wonderful fragrance.
The combination of patchouli, musk and amber complete the unique aroma and create a seductive, sensual base.
Golden Dahab (the word in Arabic means "gold") is a wonderful fruit nectar served on an oriental-musky base. In the opening, our sense of smell is attracted by the appetizing notes of green Granny Smith apple and passion fruit – on the one hand sour, on the other sweetish. The joyful and carefree chords of the head notes are balanced by the woody notes of cedar and aromatic corianderin in the heart of the composition . Deep down, durability and softness are ensured by amber and sensual musk, to which a noble patchouli leaf has been added. Addictive like a sophisticated dessert, Dahab is a scent that shimmers with golden fruitiness and envelops the skin with warmth and the mystery of the Orient. Optimistic, uplifting, seductive, it will work both on a hot summer day and on a cool winter morning. Under its influence, the smile appears on the face by itself!