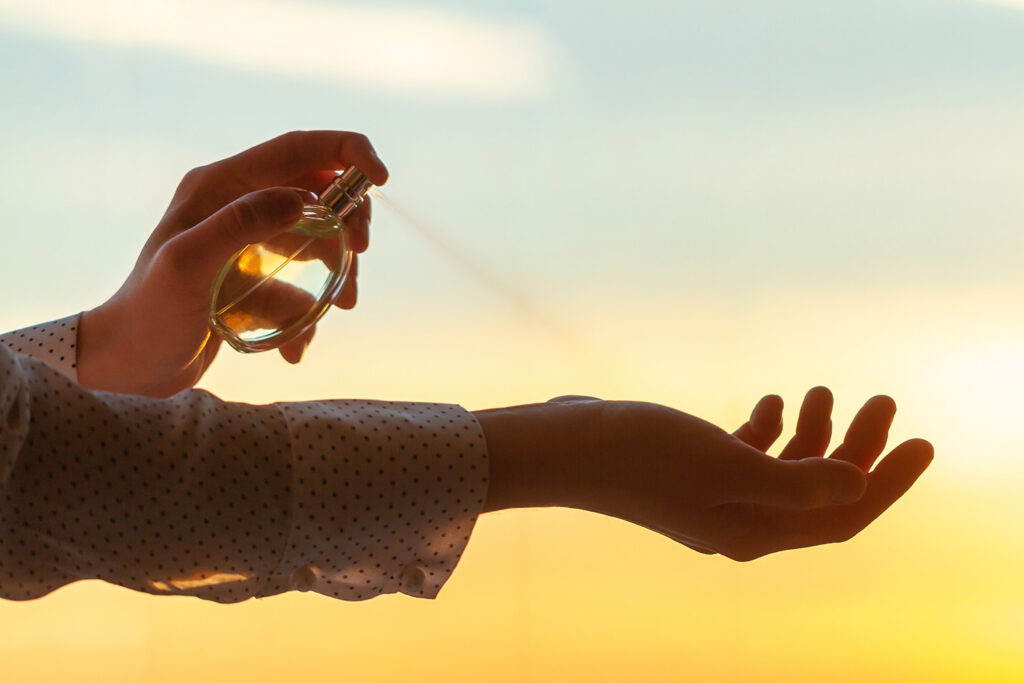 Aplikacja perfum wydaje się prostą sprawą, jednak aby zapach był jak najlepiej wyczuwalny, towarzyszył nam długo a przy tym nie powodował problematycznych sytuacji, warto jest poznać kilka niezbędnych trików.
Najczęściej aplikujemy zapachy na wewnętrzną stronę nadgarstków oraz za uszami. Są to miejsca, gdzie tętno jest najsilniejsze, dlatego też zapach będzie najmocniej wyczuwalny (uaktywnia się pod wpływem ciepła). Prócz tych doskonale wszystkim znanych miejsc, perfumy można stosować na wewnętrzne strony kostek, pod kolanami i między piersiami. Miejsca te należą jednak do bardziej intymnych, dlatego triki te warto zostawić na specjalne okazje.
Rozcierać czy nie rozcierać?
Intuicyjnie, zaraz po zaaplikowaniu zapachu na nadgarstki zaczynamy go rozcierać. Mówi się jednak, że nie powinniśmy tego robić. Dlaczego? Przy rozcieraniu zapachu "zaburzamy" możliwość jego naturalnego rozwijania się na naszej skórze. Zapachy piramidalne, w których skład wchodzą nuty głowy, nuty serca i nuty bazy, stworzone są tak, aby stopniowo uwalniały nuty właśnie, natomiast pocierając je "mieszamy" wszystkie fazy i w efekcie nie odkrywamy w odpowiedni sposób piękna całej kompozycji.
Aplikacja perfum na włosy
Wiele Pań przyzwyczajona jest do aplikowania perfum na włosy. Niby nic w tym złego, ale warto wiedzieć, że perfumy, a także zawarty w nich alkohol mogą przyczyniać się do niszczenia struktury włosa. Dodatkowo pamiętajmy, że perfumy na włosach będą pachnieć zupełnie inaczej niż na skórze. Dlatego też producenci coraz częściej decydują się na wprowadzanie tak zwanych "hair mist", czyli mgiełek zapachowych do włosów. Różnią się one zawartością alkoholu oraz nie zawierają substancji, które je niszczą. Mimo że nuty zapachowe użyte do ich produkcji są z reguły takie same, jak w perfumach, zazwyczaj ich zapach odrobinę odbiega od zapachu perfum o tej samej nazwie. Jest to spowodowane użyciem innych metod przy produkcji oraz mniejszej intensywności składników.
Aplikacja perfum na ubrania
Często i ochoczo stosujemy perfumy na ubrania. Każdy lubi, jak jego ubranie długo i ładnie pachnie, a tkaniny potrafią utrzymywać zapach o wiele dłużej niż skóra. Czasem nawet zapach jest wyczuwalny po upraniu odzieży. Niestety zarówno olejki użyte do produkcji perfum, jak i sam alkohol niszczą tkaniny oraz potrafią powodować przebarwienia. Niekiedy nie jest to widoczne na pierwszy rzut oka, ale przebarwienia pojawiają się z czasem, szczególnie na jasnych ubraniach. Dlatego najlepiej, aby zapach, który kupujemy, stosowany był tylko i wyłącznie na "gołą" skórę.
Czy zapach może się utrzymywać jeszcze dłużej?
Otóż tak. Możemy przedłużyć trwałość zapachu na skórze. Perfumy będą zdecydowanie dłużej wyczuwalne, jeśli zaaplikujemy je na dobrze nawilżone miejsca. Można w tym celu użyć bezzapachowego balsamu lub oliwki. Zapachy "trzymają się" tłustych powierzchni. Dlatego najtrwalsze zapachy mają oleistą formułę – na przykład attary, czyli czyste olejki, które występują w małych pojemnościach, ponieważ są tak intensywne, że stosuje się tu przysłowiową kroplę.
Zazwyczaj mają je w swojej ofercie marki ekskluzywne i niszowe, ponieważ ich cena jest bardzo wysoka.